Sunrise Club fundraises for local environmental organization 350 Seattle
Presidents discuss political activism and how students can support the environment
In recent years, with the impacts of climate change becoming increasingly devastating, environmental activism among Generation Z is more prominent than ever. High schoolers in Seattle are no exception, with environmental clubs being some of the most popular organizations on campus. 
BHS's Sunrise Club is a hub of the wider Sunrise Movement: a coalition of young people working to stop the climate crisis and win a Green New Deal. Co-president and senior Aria Seavecki described the organization in simple terms.
"[Sunrise] is a nationally recognized climate advocacy program," Seavecki said. "We do a lot of work concerning environmental policies."
On March 24, the club held a bake sale outside the main office to raise money for local environmental group 350 Seattle.
"[350 Seattle] is an organization … that fights for climate justice and works on the political aspects of [environmentalism]," Co-president and senior Sonja Miller said.
Sunrise and 350 Seattle share many goals, including resisting fossil fuel expansion and achieving climate justice.
"We thought [350 Seattle] resonated with Sunrise Ballard because we've done similar things to them," Miller said.
For example, in previous years, both the Sunrise Club and 350 Seattle have participated in Earth Day strikes and fossil fuel expansion protests.
An aspect of Sunrise Club that differentiates it from other environmental clubs is its focus on political activism.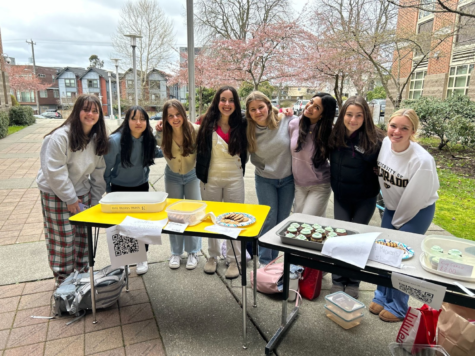 "Although I do think local and school environmental efforts are really important as well, …  we want to be able to make a broader difference," Seavecki said. 
This means Sunrise Club often pushes for legislative change through lobbying. This has included methods such as writing letters to Congress and protesting.
"For us, legislation efforts resonate really well with the club because it's a way to make an actual impact," Seavecki said.
Beyond the club's work in local politics, Seavecki and Miller encourage all students to support and advocate for the environment.
"You can also just become involved with the things that we do as a club," Seavecki said. "Whether that's bake sales or protests … these are great things you can try and do to make a difference."