Affirmative Action: ruling against race-conscious admissions 
In July of 2023, the Supreme Court eliminated the use of affirmative action in college admissions. With its rulings on two cases addressing admission plans at Harvard University and the University of North Carolina, the court's conservative majority argued that race-conscious policies violate the Constitution and discriminate against white and Asian American students. 
Affirmative action was created in an effort to alleviate under-representation and improve employment and education opportunities for minority groups. In 1963, President Lyndon Johnson officially defined and introduced the policy in the height of the Civil Rights movement as a remedy to the effects of racial discrimination in the U.S.
"Many years ago, you got a certain score on the SAT and a certain GPA score and it was literally a chart…you got admitted or you didn't," Counselor Gail Olson Liang said. "Many years ago that changed to where most schools do holistic admission… They look at the whole student." 
Because of the recent Affirmative Action ruling, colleges are now limited in their ability to carry out holistic admission methods. Colleges can no longer directly consider race when considering applications, an aspect of the college application process that has existed for nearly 60 years.
"My greatest fear is that people will interpret this to mean that they're going to need to work harder," ELA teacher Kristina Katrel said. "[Students will] feel that they don't have any structure or framework to help them. But sometimes it's even just the mindset of, 'I actually might have a pathway into this university because I have experienced adversity.' That then might enable a student or encourage a student to apply to a school that they previously thought of as out of reach." 
Some colleges may begin exploring other aspects of diversity when considering applications, as well as shifting focus towards different aspects of a student's application. 
"If [colleges] admit folks who are too similar, they're going to have very little debate," Katrel said. "And if they don't have that mix, then what people don't grow, people don't change."
Furthermore, colleges have begun shifting focus towards different aspects of student's applications since the ruling. Colleges are simultaneously decreasing their reliance on standardized testing.
"The SAT is much less important than it was before the pandemic," Olson said. "A lot of schools are test optional… other schools are what we call test blind… So we're seeing a real change even in the last five years."
Colleges have also begun leaning into the essay portions of their applications to address race and ethnicity in an effort to continue considering students' race and background in admissions.
"You can tell your story, you can mention [your race in your essay]," said Mira Slotkin, senior and College Essay Club president. "For [any student], if they wanted to write about their heritage, that's kind of a get around for Affirmative Action."
However, this change might narrow the aspects of identity students can explore, such as socioeconomic class, gender, religion, culture and neurodiversity.
"I would say that it might limit opportunities for some students of color to talk about multiple identities," Katrel said. "I think it might burden them to only talk about that identity versus another one."
While opinions vary on the Supreme Court's decision and Affirmative Action, some members of the community believe this ruling is a signal for change to the country's current policies.
"What that tells me is that we need a different system," Katrel said. "Rather than thinking of this as 'our colleges are racist,' I think it's more along the lines of 'we haven't figured out how to authentically make reparations for past harm.'"
With that said, the continuing systemic issues of racial discrimination in college and employment are not just present after high school. Students, staff, and members of the BHS community can continue to take localized action to make such reparations for past harm.
"For me, it was never about letting in somebody who was not qualified," Olson said. "It's about what we [are] doing at the high school level [and] at the college level to eliminate barriers so all students can be successful."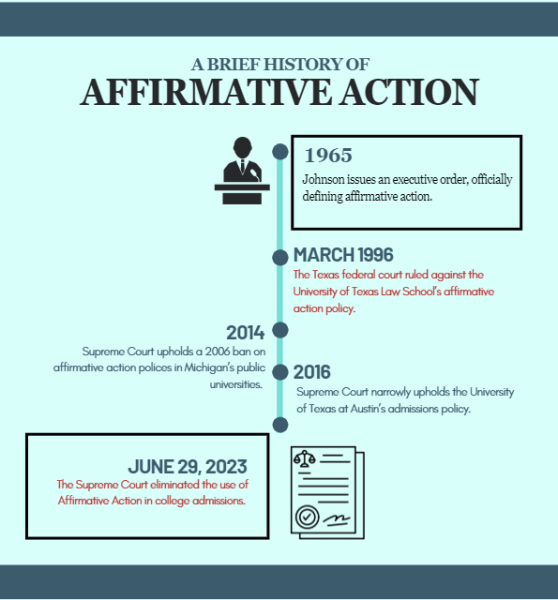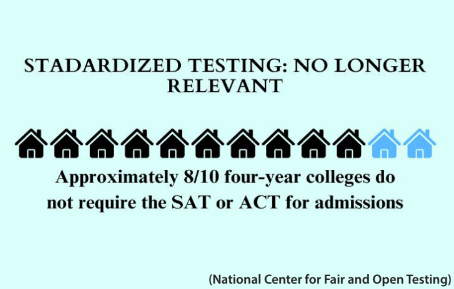 Roe v. Wade: location matters
In Dr. Suess's "Oh the Places You'll Go!," he writes, "You have brains in your head. You have feet in your shoes. You can steer yourself any direction you choose."
This statement no longer entirely holds true for some students. Due to recent changes in reproductive rights policies in the country, there are now additional limitations on individual choice.
In June of 2022, the Supreme Court overturned the 1973 Roe v. Wade decision, removing the constitutional right for abortion in the United States. Supreme Court Justice Alito wrote for the court majority, stating that the original 1973 decision was "egregiously wrong" and amounted to "an abuse of judicial authority."
States now have the right to determine abortion rights and laws for its citizens; it is no longer a federal guarantee. Immediately following the 2022 decision, nearly half of the United States rolled back abortion rights. 13 states enacted trigger bans on abortion once Roe v. Wade was overturned, some immediate and some delayed by 30 days, with other states enacting other policies including method bans, reason bans, Pro-Roe bans, and various others. 
While abortions remain legal in Washington state through state laws and policies (in fact, Washington enacted additional policies after the ruling to expand abortion access), many students will be leaving the state post-graduation for college. 
"I don't want to go to a college in a state where people don't have access to abortion," senior Ella Rogers said. "It's really impacted and narrowed down the states that I want to go to college."
Depending on where a student chooses to go to college, ELA teacher April McKenna pointed out, they can take an individual action and stand for their opinion on the Roe v. Wade ruling and related issues. 
"I think where you choose to spend your money (i.e., tuition) is another way to cast a vote in some sense," McKenna said. "Sometimes in our capitalist society, I think it's important for our pocketbooks to do the talking, so to speak."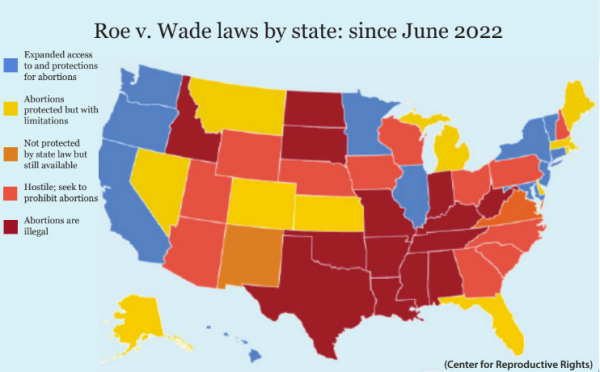 Featured story: understanding the college gender divide
Abigail Bekele, Staff Reporter
A sudden and drastic shift in college's gender demographics in recent years has grabbed people's attention. Just over 60% of today's college students consist of women, a stark contrast to previous enrollment statistics. Many wonder what may have caused this shift.
More recently, colleges have been taking strides to diversify their branches of teaching. Digging deeper into the motivations men and women have for receiving a college education provides insight into the recent changes in gender disparity in college populations.
"I think the emphasis of college education is implemented equally [for men and women], but I think the reception of it is different," Ramstad said.
She went on to describe current expectations of men and women's career paths. Professions in which a college degree is not required like entrepreneurship and physical labor are typically seen as male dominated fields.
"It's almost like there are more socially acceptable lanes outside of college for men to go to than women," Ramstad said.
This idea of social norms impacting collective college enrollment is shared by others within the BHS community.
"We've had a really big and important push in recent years for women to do more STEM," counselor Sonya Petersen said. "Really encouraging and lifting up women in those fields, I have to wonder if that's impactful in women attending college at higher rates."
The significant increase in women attending STEM colleges has aided in closing the wage gap and created diversity in predominantly male fields. The Harvard Gazette states womens' presence in such fields has exponentially grown from only 8% in 1970 to 27% in 2019.
Furthermore, Sarah Lawrence College has a striking 75% to 25% ratio of women to men in their student body as said by Data USA. Our Lady of Lake College similarly has an imbalance of 67% to 33% according to U.S. News.
Considering this, is this trend something for high schools to take into account?
"I think it's important to be aware of these trends in education," Petersen said. "The school certainly could do more outreach if we think there are populations that are not attending college."
Societal expectations of women seem to have played a major role in this shift in college enrollment. Does society play a role in college registration? Will this divide continue to grow? Though it is difficult to pinpoint a single cause, being aware of this imbalance is important to fully understand todays' world.