April showers to May flowers
Botany teacher's favorite student-planted sprouts for spring
Botany teacher India Carlson has seen her fair share of new spring flowers in the school's garden throughout her years as a botany and horticulture teacher. But she hasn't always had the position. 
Currently in her sixteenth year of teaching at the school, Carlson started out as a botany substitute, then taught ninth grade integrated science. The following year, she taught genetics. After that, the greenhouse program stood empty because a teacher was unable to return, and the position was offered to Carlson. 
"I said yes, please," Carlson said. "Let's do that."
Since starting it back up, one of her long-term projects has spanned years: students planting flowers in and around the garden. Carlson emphasizes how the project is student-led, with minimal teacher interference. 
"Everything that's been planted out here has been planted by students," Carlson said, looking over the newly-sprung tulips. "We plant more every year."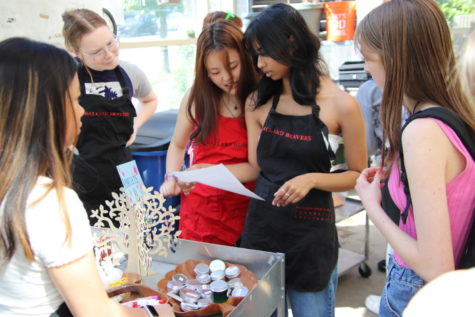 Brightly colored flowers line the sidewalk outside the school, a welcome pop of color against the drab gray. Purple and red stand out as the prominent colors. Next to the tulips sits a leafy green plant, devoid of blossoms. 
"This is a biennial flower, a Hollyhock," Carlson said. "The first year, [students] just grow the plant. The second year, [the plants] make a flower." 
It doesn't seem like any flowers are nigh for the understated green plant, but Carlson knows better.
"They didn't flower last year, but they're gonna flower this year," Carlson said. "They're gonna be about four feet tall. And probably purple."
It's not only small plants in the garden. In the corner, a small apple tree is in full bloom. 
"It's a Liberty Apple," Carlson said. 
Liberty Apples, or Malus Domestica, are hybrid apples originally developed by the New York State Agricultural Experiment Station to be immune to Malus Floribunda disease. And now, one has found a home here at the school. 
The plants aren't just there to look pretty, either. Edible plants like carrots and lettuce flourish in the wooden flower beds on the ground. 
"We plant all of these out here so that there's food," Carlson said. "We can eat it before the end of the school year."