Annual Naramore student art museum show
Four students reflect on their pieces featured at the Seattle Art Museum this year
The Naramore Art show hosted this year at the Seattle Art Museum will feature over 200 works of Seattle Public School's middle and high school students. The exhibition will be on display from April 8 through May 14 in the first floor community gallery, featuring the artwork of five BHS students.  
This year's students had photography, paintings and ceramics on display. Junior Lily Beckerman, senior Bella Mojoros, senior Andy Guthrie and senior Logan Evans reflected on their displayed art pieces. 
Beckerman's piece, called "265,180," is a painting inspired by her 1986 Volvo, the first car she purchased after saving up all summer, and the first place that felt like her own space. The name comes from the number on her odometer in the picture she used as inspiration. Beckerman described the feeling she wanted to evoke on viewers seeing her painting.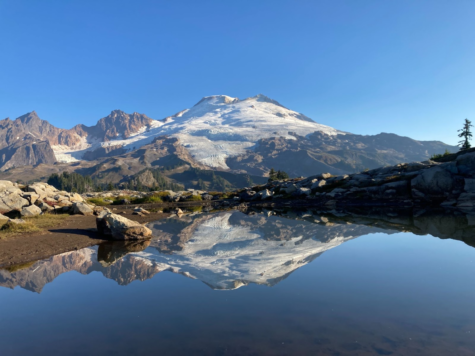 "I just wanted the piece to bring forth a sense of comfort, and I wanted to showcase the character [of] my car," Beckermen said. "I like having a space of mine that's different and it just feels comforting to me."
Mojoros's painting "Quiet Right Now," was inspired by the desk in her room on a late summer day where she felt completely at peace, not having to worry about schoolwork. She describes the choices she made to impact the feeling the final piece induces.
 "I wanted a moody sort of thing going on,"  Mojoros said. "I used a lot of green color schemes. I also wanted to show that you can make anything visually appealing, because I literally just took a picture of my desk and that was it."  
Guthrie's work featured at the art show are two plant pots that he made on the wheel in Scott Cachopo's ceramics class. The two pots compliment each other, with identical designs and alternating colors. Guthrie explained the inspiration behind the design choices he made.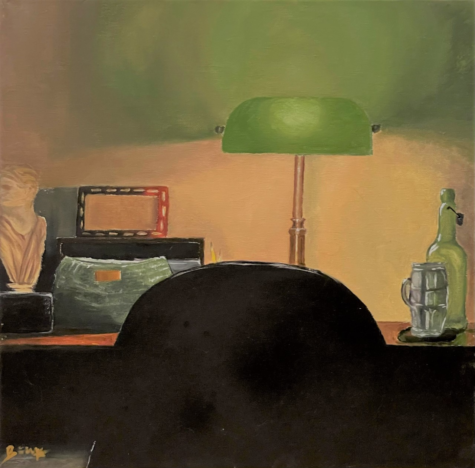 "I really like mosaic patterns so for this one I used little bottles that would give it more of a 3-dimensional texture, and you can actually feel it's similar to a mosaic tile," Guthrie said. 
Evans's piece at the art show is a photograph taken near Park Butte Lookout, a WWII-era fire lookout on the Southern flank of Mt. Baker, in the North Cascades. The image was captured in late September, looking up at the mountain with its crystal-clear reflection seen in the still water of the pond below. Evans reflected on how he became interested in photography, and what he hopes people will take away from his work. 
"Ever since I found out about Jimmy Chin, an outdoor adventure photographer based in Wyoming, I have been inspired to take photos of the moments I've experienced in the outdoors," Evans said. "I hope that people who see this photo will want to get out and explore the mountains for themselves — it's a lot better in person."
All four students whose work is in the show are influenced by themes important in their worlds, making the pieces even more unique and meaningful.