Cody Lavin's lacrosse journey
Varsity goalie from Washington to New Jersey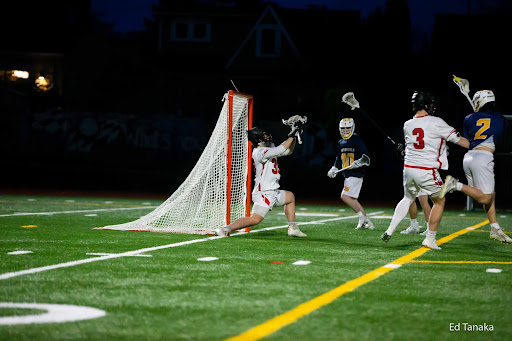 There's a place where everyone begins their journey to finding what their true passion is. That journey started for Cody Lavin in second grade.  
"My dad wanted me to start playing as a way to gain motivation, Lavin said. "My first year playing I even played up a year."
Four years went by as Lavin continued to pursue this sport before he really found where he was meant to be on the field.  
"Sixth grade was when I started playing goalie," he said. "My dad bribed me into it as he was the coach but then I realized that I really liked it."  
He found a purpose by playing goalie that Lavin hadn't experienced prior.  
"You can control the entire game, it feels so great," he said.  
He feels that it's not always easy but tries to embrace how much it is worth it.  
"I appreciate the pressure; pressure is a privilege," he said. "It means you really care, that's when you feel pressured." 
He also recognizes the considerable amount of responsibility in his hands.
"If I mess up, it's a big spotlight on my mistakes when the score board changes," Lavin said.
 A year later after this discovery, Lavin traveled to his first tournament in seventh grade.
These tournaments would continue throughout Lavin's lacrosse career. 
4 years later, his sophomore year in highschool,  he decided to start putting everything into this hyper competitive sport. 
Lavin would never have expected his first tournament his 7th grade year would led him to playing 27 tournaments during his commitment process.
The process of recruitment for getting committed wasn't an easy one by any means. 
"I sent 5,000 to 6,000 emails to coaches, not always the most glamorous part of the commitment process," he said.  
He admits that being good at lacrosse is only one component of getting offers to play at a university.
"15% of the equation is about being good but the rest is about where you're from and who you know," he said.  
Part of who Lavin is as a player comes from being a part of the Ballard Lacrosse team; he feels a strong  connection with his teammates  on the field.  
"The first practice when the season began was the best, it was just all about lacrosse and great to see the guys again," he said.  
He feels this season was a great reflection and way to end his last year playing for Ballard. 
"We were undefeated this season in the metro public," he said.  
Lavin also got to see his own personal achievements and growth along the way.  
 "I had the number one save percentage in the metro public league." 
He feels this victory is very much due to the group of players.  
"The mood is very impactful, we have an emotional and competitive group of guys," he said.  
Driven by their competitiveness, the lacrosse team achieved a great win against one of their top rival teams, Bainbridge. 
"A highlight this season was winning on Bainbridge Island against Bainbridge, we had never won at their home field," Lavin said.  
Even though Lavin's High School lacrosse journey is coming to an end, he's excited for his future of playing lacrosse at Monmouth University in New Jersey.  
"I'm excited to keep playing the sport I love," he said. "I get to see how far I can get." he feels.