Seattle Kraken cuts girls' hockey programs
The team created a girls' hockey environment, but are now cutting more than half of their ice time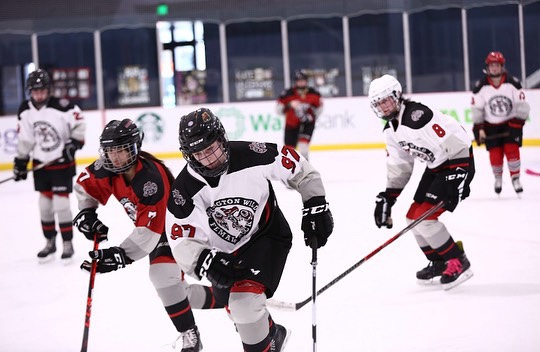 The Western Washington Female Hockey Association (WWFHA), also known as the Washington Wild, is committed to promoting girls' ice hockey and expanding female players in the Pacific Northwest. Since the opening of the three-rink Kraken Community Ice plex in Northgate, the girls teams have had a place where they can practice and play.
However, the Kraken, Seattle's newest NHL team, has cut the ice time for the girl's Wild hockey program by nearly 60% for next season. On top of that, they have also asked that the 8U, 10U, and 12U girls house programs be stopped altogether. This news comes as a shock to the Wild community, which has seen record growth and demand for their programs. There are many girls around Washington that are angered by these remarks, including Izzy Kim, a senior on the Washington Wild girls 14U-19U development team.
"The situation is deeply upsetting mostly because it's purely a capitalistic and greed-based choice from the Kraken," Kim said "They don't see an issue with that because they're trying to build their monopoly over hockey in the area." The Kraken has defended their decision by citing the need to make room for their AAA boy's teams and expand their adult programs. While this move may make sense from a business perspective, it is evident that the impact on young girls who love hockey has significant negative consequences.

"

[The Kraken have] been trying to shut us down and make us pretty much disappear for a while now."

— senior Izzy Kim


The Wild Hockey Program describes in their website that they have always strived to provide a supportive and empowering environment for girls to play hockey. It's a place where they can feel comfortable and confident, and where they can develop their skills without fear of judgment.
Kraken's decision in cutting girls' ice time has been a persistent topic for months, causing frustration and inequality in the sport. This has not only affected the development and opportunities of female players, but also perpetuated gender disparities in ice hockey.
"[The Kraken have] been trying to shut us down and make us pretty much disappear for a while now," Kim said.
Despite this setback, the Wild programs are determined to find a way to continue providing a supportive environment for young girls who love hockey. They are exploring all options and are committed to finding a way forward, but it's clear that they'll need the support of the local community to make it happen.
It's apparent that the impact of the Kraken's decision will be felt far beyond the ice rink. It's a reminder of the importance of supporting programs that empower and inspire young girls. The Wild programs may have lost some of their ice time, but they haven't lost their spirit.