Band takes on Disneyland
For the first time since COVID, the band marched in the Disneyland parade
The band's trip to Disneyland has been a long standing tradition, but when COVID-19 hit, the trip seemed to have come to an end. This year, however, was different. The band made the trip to Disneyland and got to have fun while showcasing their talents in a parade. 
Juniors Rose Kibelstis, Sadie Kibelstis and senior Stella Nilson shared their thoughts on the trip and experiences with the band.
Rose Kibelstis has been in the band since her freshman year and has been playing the trombone since fourth grade.
"I have had a series of really awesome teachers [like Mr. Gillespie] and have enjoyed getting to know and becoming part of the community, which is very welcoming," Rose Kibelstis said.
Kibelstis was excited for the trip, as it wasn't initially expected that one would be planned. The schedule for the trip was packed, but the students had lots of freedom once actually in the theme park.
"As long as we were in groups, us students [and adult chaperones] got to go off on our own and do rides or whatever we wanted for about 13 hours," Rose Kibelstis said.
There were three main events for the band on this trip. For the marching band, they marched through the park performing songs such as Locked Out of Heaven by Bruno Mars, the whole group went to America's Got Talent and there was also a specialized recording session backstage at Disney.
Rose Kibelstis said her favorite part of the trip was going to see America's Got Talent.
"It was nothing like you see on TV — it was so much cooler with the judges and the performances up close," Rose Kibelstis said.
Junior Sadie Kibelstis has also been playing in the band since her freshman year, but has been playing the trumpet since fourth grade.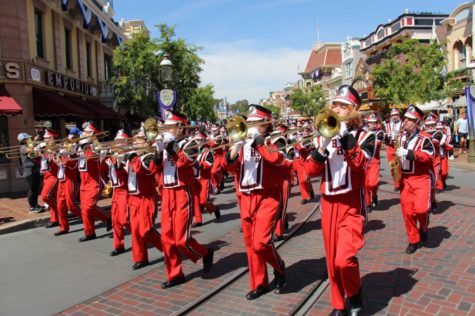 "It's definitely become a bigger commitment as I've gotten older. I'm in jazz band, wind ensemble and marching band," Sadie Kibelsitis said. "But it's so worth it." 
Sadie Kibelstis said her favorite part of the trip was getting to spend so much time with her friends, and it made waiting in the long lines more fun.
When they went to America's Got Talent, Sadie Kibelstis said they were met with something very special.
"I also really enjoyed going to watch America's Got Talent on the first day, as I ended up really close to the front, and even got a high five from Simon Cowell."
The last morning of the trip was the day the group went to the backstage recording session.
One of Sadie Kibelstis' favorite parts of the trip was playing music from Disney movies and putting their recording over the original scene, so it was like the band was the soundtrack for that part of the movie.
Senior Stella Nilson describes the trip as eye-opening and special. Nilson has played the flute since 6th grade, and has played for the band for all her years at Ballard.
Nilson said she initially heard about the trip her freshman year, and she was super excited to participate, however COVID hit and unfortunately caused the trip to be canceled for the following 3 years.
"When we first heard the news we were very grateful that we were able to pull this trip off [in] our last year of high school," Nilson said.
Nilson expressed that her recent experience at Disneyland was different compared to past trips because of the environment and getting to experience it with friends.
As far as her experience with the band overall, Nilson explains that it takes work, but it is worth it because it makes you a better player and supports the band.
"My experience has been pretty enjoyable, everyone is good spirited and supportive," Nilson said.