Budget cuts cause concern for the future of language programs
Budget cuts would ruin the integrity of the language within school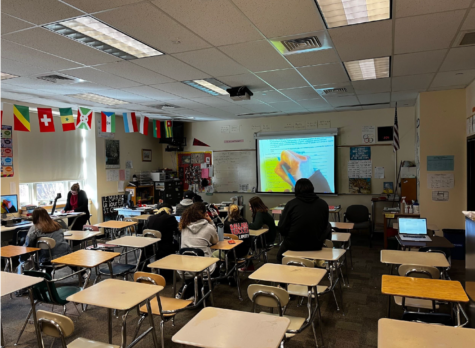 As a new student to Ballard High School, glaring comparisons have become apparent when I look at the World Language department. Like most schools in America, Spanish dominates the scene, but Ballard lacks any sort of varied language courses, outside of asynchronous classwork, with the only in-person language classes being Spanish, French or Japanese. 
 The majority of students tend to lean towards the class they took in middle school: Spanish. Due to the popularity of Spanish, the smaller French program has suffered recent budget cuts that have the potential to hurt the integrity of French as a language course. French teacher Annaick Sturgeon is being asked to cut down to one period of French I, with a period of AP Spanish 5 being cut as well. While this sounds like a fair deal, the cuts will be detrimental to the French program, but almost dismissable to Spanish.
French is only offered at Ballard by Sturgeon and language teacher Mark Quinn, with a combined six periods total, five by Sturgeon and one by Quinn. 
"Both French I periods for this year are full of freshmen, and the reason that they spoke about cutting next year's French I is due to the lack of enrollment within the class, which is not possible to predict without a confirmed number of incoming freshmen," Sturgeon said. 
To cut a class targeted for incoming freshmen, like French I, without a confirmed amount of said incoming freshmen is rash to say the least, but would also be detrimental to the integrity of French students' academics. Freshmen at Ballard would take French I, but if the class is only offered within one period, a butterfly effect would occur in the rest and reduce how many people actually continue French for the rest of high school. 
In order to maintain integrity within the French program at Ballard, Sturgeon had written a proposal to reform the budget cut to her classes, and hopefully keep the already small French program's coherence, which had been presented to administration at 4 p.m. on March 7, 2023. The budget committee is  now waiting on freshman numbers to choose which of the introductory language classes to cut.