Biannual Hawaii trip returns for first time since quarantine
Students visit Maui on ecology trip
Visiting Hawai'i might sound more like a dream than a high school science trip. But science teacher Noam Gundle continues to make it a reality. Thanks to his diligent planning and organization, Ballard has had a history of ecology trips to the island of Maui. This year, the trip was Feb. 20 to March 4. The 2023 group of sophomores, juniors, seniors and chaperones amassed around 50, affectionately dubbed the "'ohana", meaning family in Hawaiian.
"I have been wanting to do trips like this my whole career," Gundle said. "I was inspired to teach by my mentor Craig Macgowan who pioneered the Maui trip in the late 1970s."
Gundle's inspiration from Macgowan, coupled with his student experience on a early-90s Florida trip taken by Garfield High School, inspired him to adopt the trip for Ballard. Previous Maui trips have taken place in 2014, 2018 and 2020. The 2023 trip is the first one after COVID: an accomplishment that students don't take lightly. Seniors on the trip were grateful that the opportunity arose in their final year.
"I'm ecstatic," senior Olivia Hall said. "It was such a wonderful experience and I'm so happy that everyone who went got to go."
And as for the activities? Some of the favorites were snorkeling, outrigger canoeing, surfing and of course, swimming. The mid-70s weather was a more than welcome change from raining or snowing Seattle, and students took advantage of it every day.
"I really loved snorkeling, especially at Makena Bay," sophomore Carolyn Reid said. "It was super cool to see turtles and all the coral underwater."
The "'ohana" went snorkeling almost every day, with different locations each time. Students also had the luck of seeing turtles, or honu, while snorkeling, along with breaching whales. Students were impressed by all the other marine life too, such as a variety of sea stars and anemones.
Every day began early— once even as early as 3 a.m. for the Mount Haleakala climb— and everyone always had something fun to do, from preparing and eating food to relaxing on the beach. There was a lot of togetherness, which did drain some people's social batteries, but overall the "'ohana" enjoyed each other's company.
"Everyone was so sweet," junior Ella Leung said. "The community we had as a group made even the long car rides and homework time eventful and fun."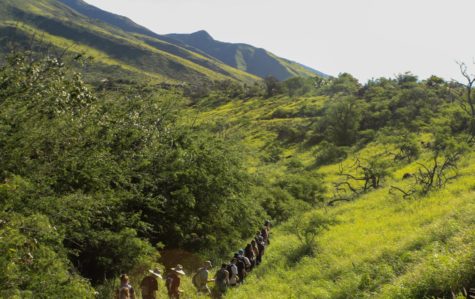 Homework time was given every other night so students could keep up with their work. The WiFi wasn't the best and it was pretty distracting in the full room of people chatting, but students made it work. Some seniors even applied to the University of Hawai'i on a whim.
When the final day came, students celebrated and went to a lū'au – a traditional Hawaiian party. There was a feast featuring pork, poke and more, alongside a performance done by fire throwers and hula dancers. Everyone soaked up the last bit of Maui they could before our departure early the next day.
The trip ended with a flight back to Seattle with science projects in the works for everyone. Students may have left Hawai'i and returned to 40 degree weather, but their "'ohana" remains.