Winter sports season in review
Wrestling
This season, the Beavers' wrestling team greatly expanded in size and consistently performed well in dual meets and tournaments as a result of their heavy conditioning and intense practices.
Between boys and girls wrestling, five wrestlers qualified for state: Jackie Benson, Cass Sylves, Ben Kildal, Simón Moreno, and Miles Price. Also going to state as alternates were James Goodall, Tommy Megal, Lazlo Davis-Rudin, and Hayden Wiggins.
Junior wrestler Rishab Nagarkar described a typical practice: "We start with a 10 minute jog around the school, then we go to the mats, do a bit of stretching, then it's hard drilling in each position, and sometimes our coach shows us a new move. We end with 15 to 30 minutes of live [wrestling]," said Nagarkar. "All the coaches are awesome. They push you and make you hate practice, but once you're on the mat it really feels like they're there to support you."
Senior Captain Cass Sylves emphasized the importance of conditioning to the team's success. "I would say we do more conditioning than most wrestling teams in the city, and that has really helped our mentality and endurance during our matches," said Sylves. "It takes 1,000 reps to master something, so our coaches stress heavy repetition on things we already know."
Bowling
In their first ever season, the Beavers' bowling team led by head coach Scott Cachopo was instantly competitive in the pre-existing league and sent two bowlers to state, seniors Lilly Toland and Jill Sousley.
According to senior bowler Sonja Miller, most of the bowlers were new to the sport and appreciated it as a new competitive challenge. "The season was fun; it was good to try out a new sport," said Miller. "The most memorable moment was when we beat Prep. We tied them and then we had to go into overtime, which, in bowling, just means you play another round."
On February 14th at eighth grade choices night, many incoming ninth graders expressed interest in joining the bowling team, so the team is projected to grow in the coming seasons.
Boys Swim and Dive
Boys swim and dive had a strong season marked by a large underclassman turnout, consistent improvement throughout the year, and postseason success.
Backstroker Kian Vae'ena, breaststroker Evan Mast, butterflier Kyle Chew, and freestyler Nathan Williams ended the season with a new school record of 1:40.93 in the medley relay at the state meet. Head coach Kyle Morean was awarded Metro League Coach of the Year.
This year's team was led by Senior Captains Leonard Paya, Finn Keenan, and Kyle Chew. This trio of captains credits the team's success to challenging practices and a stronger sense of community than in previous seasons.
"We got up really early every morning and just swam," said Chew. "Our coaches pushed us to our limits in practice and we got better every day."
"We had really good attendance this year, and as a group we had better spirit," said Paya, whose behind-the-scenes logistical efforts were vital to the team spirit and organization. "We bonded as a family."
Keenan foresees continued success in the next few seasons. "We have a good coaching system built up, and there are lots of up and coming underclassmen who are going to carry the team," said Keenan.
Basketball
Competing in the Mountain division, the girls' basketball team struggled in the regular season, but they rallied in the post season to get a couple of big wins and qualify for the districttournament.
Senior Captain Diyanka Laemmle attributed the team's resiliency to their solid support system. "Keeping each other accountable and supporting each other worked well," said Laemmle. "We had team dinners at certain players' houses, so those helped bring the team together."
The team also hosted two special events, a Title IX event celebrating women's participation in sports and a "Rally for a Cause" night that raised over 200 pounds of food for the Ballard Food Bank.
Under new head coach Lorenzo Durant III, the boys' basketball team put together a winning season with a record of 10-4 in league play. The team was led by senior captains Jack Swartz, Tom Fathi, Ralph Stinebrickner, and junior captain Nirvan Laemmle.
Swartz was awarded first team all metro honors.
According to Stinebrickner, the team established and thrived with "an underdog and undersized identity" in which the team emphasized strong effort on defense and conditioning.
"We all wanted to play defense. We enjoyed it … for the most part it was what made us win games," said Stinebrickner. "Early in the season, about half of each practice was pure conditioning. Later in the season practices were more about working on plays and defense, but there were times when we needed conditioning and that was all we did for practice."
Senior Max Sevier agreed with Stinebrickner's sentiments about practice; "Our coach [Durant III] has been great, he pushes us hard and it has really helped us succeed this year," said Sevier.
Gymnastics
The beavers gymnastics team had yet another outstanding season. They went undefeated in the regular season, won the metro league title for the second time in a row, placed second in the district championships, and placed fourth at the state championships with their season high score.
Their season's achievements were due to hard work and a tight community within the team.
"We have a really good team dynamic. There's a lot of intrateam support; we're a really good team inside and out," said senior captain Taylor Whetsel.
Every day after school, the team set up their equipment in the gym, including wrestling mats, beams, bars, and a vault before their intense three hour practices.
According to Whetsel, the most difficult part of the season for the team was enduring the sport's taxing nature.
"We're all really tired. It's a hard sport on your body, and we're practicing five to six times a week plus meets, so it's a lot of exhaustion," said Whetsel.
Nonetheless, the team's efforts paid off with excellent results in regular and postseason meets.
Flag Football
The flag football team had a successful inaugural season led by head coach Laura Lehni, assistant coach Robin Dowdy, and team captains Tristan Cooper and Jennifer Garcia Cruz.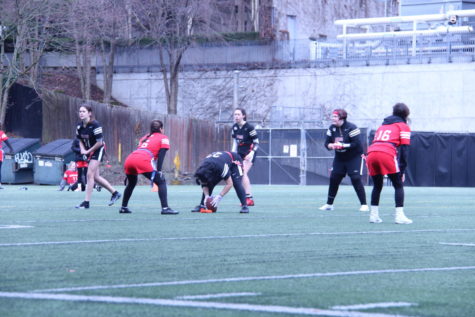 According to senior safety and running Back Jaden Helman, as a new team lacking prior experience they had to learn the sport as they went, and performed their best under a simplified playbook. "At the beginning, we had playbooks and the plays were really…complicated, but weirdly enough, football works just fine if you just throw the…ball and not do all these complicated plays," said Helman. The team's simplified playbook paid off in their wins against Ingraham and Rainier Beach.
"It's a really fun environment. All the teams show up to Memorial Stadium, and it's like a tournament setting," said Helman. "Hopefully a lot more people will join next year, because we didn't have a very deep roster. It's super fun, and it's not a big time commitment."