The risks of playing high school football
While some athletes are willing to risk their all to play, injuries remain ordinary
Football possesses different meanings for different people. Whether you watch them, play for fun, or play professionally, a different meaning is presented. Many athletes can feel that sports are their life, and that they're willing to risk everything in order to play, others may feel that they're just doing it to get exercise or money. However, no matter what level you're playing at, football presents a major risk among athletes.
On January 2nd, 2023, the football world was struck with one of the scariest moments in sports history. In the middle of the first quarter, 24 year old Bills safety Damar Hamlin collapsed on the field and couldn't be woken up. As the football community watched in horror, Hamlin was unconscious and had to be taken off the field in an ambulance. Miraculously, Hamlin survived through this and is now in good spirits, it was found that he suffered a cardiac arrest on the field and a rare appearance of Commotio Cordis had occurred where a sudden blow to the chest caused cardiac damage. The football community came together supportively and were in complete distress following this. However, despite Hamlin's incident not being related to the head and neck area, damages in football can be far worse. Whether it's peewee, high school, college or professional football, there are always risks.
Unlike professional football, high school and college athletes don't receive pay for playing. Head and face concussions are the most common type of injury in high school football while players are also four times more likely to sustain a concussion in football games than while playing men's basketball. Ballard sophomore, and football player Lake Christensen shared his perspective on the entire matter. "It's very unfortunate what happened with Hamlin. Fortunately it is a very uncommon occurrence but all sports come with risks. It's too bad that football is still perceived as such a dangerous sport because it's come a long way in terms of safety in recent years," Christensen said. "I can see why some new people or spectators can feel uneasy in light of the incident, however what happened was incredibly rare and especially at the high school level, injuries aren't super common and shouldn't be the deciding factor in someone's opinion on the sport. I believe there is always a constant chance of injury but it's worth the risk when you're as passionate as I feel I am."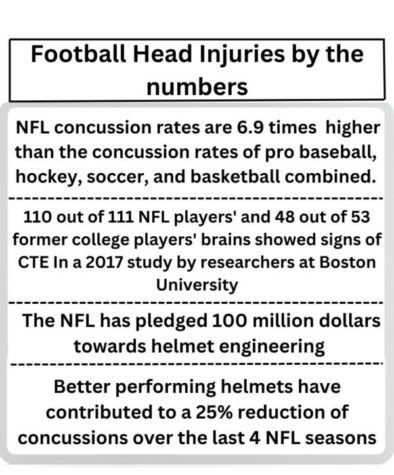 Christensen had a strong opinion on how football was advancing its ways of safety. "New Riddle and Vicis helmets are much safer than the helmets from 20-30 years ago, when I'm playing the only thing that's going through my head is the play," Christensen said. "I feel that injuries bring teams closer together, it's unfortunate and sad when they happen but are always a reminder that we're playing for each other as a team to get better."
Some high school players, including Christensen, feel that they're willing to risk almost anything to play the sport they love. However someone who played, as well as coached on a different level had a relatively different perspective. Kaleb Germinaro, former Ballard wide receivers coach and former college player at the University of Pennsylvania, had some deep inputs on the situation. "When I was in college, I was working out in the gym and collapsed due to MS which I hadn't been diagnosed with before. I had to be put in an ambulance and felt like the Hamlin situation was sorta reminiscent of that for me. I'm in a group chat with my college teammates and we were texting about it," Germinaro said. "Me and alot of my friends growing up loved the aspect of the game and what it can do. A hundred people trying to work towards one goal together on a team. There are lots of risks as far as physically, mentally and lots of other things wrong with it. However I don't enjoy the emphasis on negative effects."
In terms of how the game changes and can be changed due to injuries, Germinaro did agree that there will be advancements in safety. "We now use helmet covers during practice, I think they might eventually start wearing them in games in order to make it safer and protect people from head injuries. If your kid wants to play, as a parent do your research, be familiar with injuries, talk with the coaches and build a plan," Germinaro said. "When I was playing, I definitely got worried when injuries happened. People often forget that athletes know each other and have a different level of empathy, and relationships with teammates." A few years after his college days, Germinaro coached the WR group at Ballard.
One of the new wide receivers from last year, sophomore Luke Peffer decided to stop playing the game he loved following his freshman year. "I started playing touch/flag football when I was 6 but wasn't allowed to play actual tackle football until freshman year. I fell in love with watching it, playing it and just being involved with football in general. I think the first time the injuries crossed my mind was when Teddy Bridgewater was knocked unconscious for the Vikings and it kinda made me realize that it wasn't just a fun game, it was way more brutal," Peffer said. "I was watching the Hamlin play with my dad and originally we didn't think it would be that bad. I just think these injuries have been so normalized in football. It's hard to support a sport where people's lives are at risk at all times and can often get severe brain damage. I also think the management of injuries needs to be handled much better and that already injured players shouldn't be put in positions of risk. However there definitely does seem to be research and development of products to help keep football players safe which is great to see." Reflecting on the year he played for Ballard, Peffer had some first hand experiences with the injury scares. "I like to think that I'm a pretty good player but once I knew it was unlikely that I'd go pro, it wasn't worth it to me to put myself at risk like that," Peffer said. "I think injuries affect the environment of a team. When I was playing at Ballard I would have friends get hit, and you could tell that they weren't fully there for a few seconds when they got up. Seeing this happen right in front of me and being passed over so quickly was terrifying."
Injuries in football are no joke no matter the level of play, and need to be taken seriously. In order to keep athletes safe, adjustments must be made.