Sunrise writes letters to Congress
Environmental activism club, Sunrise, sends 120 letters to Washington representatives advocating for gun laws to protect students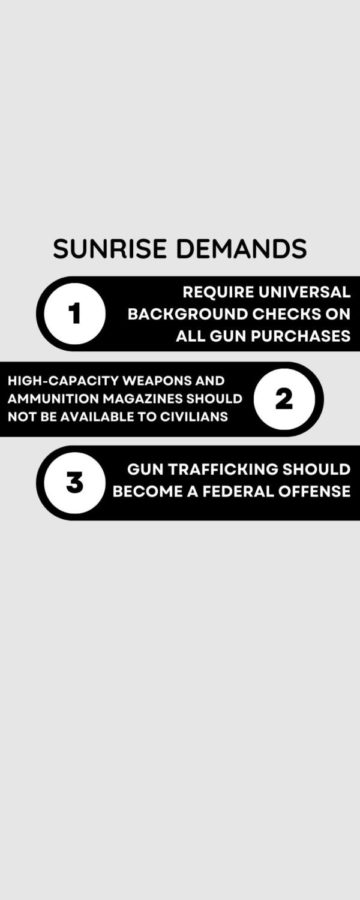 After the horrific shooting in Ingraham High School in November 2022, the Sunrise Club sent letters to congress members urging them to restrict gun laws. 
Co-President Aria Seavecki describes Sunrise Club with pride. "[Sunrise is] a club based on environmental activism. We do a lot of stuff with improving legislation and pushing for laws and policies that [we] believe will make the world a better place," Seavecki said.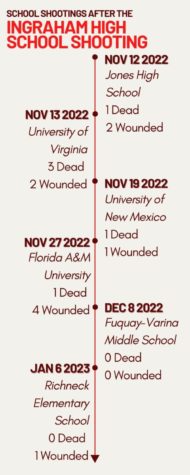 School shootings have been a grim reality that students have lived with, and the nearby shooting at Ingraham didn't sit well with the Sunrise Club and, in particular, Co-President Sonja Miller.
"[School shootings have] been happening [for] way too long… let's do something as a club," Miller said. "It felt weird to be doing something other than [writing the letter] at that point because it affects so many people." 
Instead of suffering in silence, the Sunrise Club took action. 
"We wanted to use the legislature experience that we've had in the past to now channel that into helping with gun control," Seavecki said.
 The Sunrise Club wrote a letter to congress members, and in the letter they listed certain demands to increase safety in schools and to reinforce gun control.
Those demands are stated as "we need to require universal background checks on all gun purchases," "high-capacity weapons and ammunition magazines should not be available to civilians" and "gun trafficking should become a federal offense."
Although the letter was written and demands were listed, the Sunrise Club knew that one letter wouldn't change much, so they decided to send 120 letters, each with its own signature. 
"[I]t definitely makes an impact," Miller said.
"We set it up so that each congressperson has about 20 letters going to them. So hopefully the fact that it's going to so many different congress members and the amount of letters that they're each getting, it should hopefully make a big difference in what they're now viewing in terms of gun policy laws," Seavecki said.
Although a direct response isn't expected, with a total of 120 letters, 20 letters for 6 different congress members, they hope to influence these congress members to make a change where we students cannot.
"I hope that our letters will be reflected in things that Congress decides to prioritize in our state moving forward or that anyone in [the] Washington legislature decides to move forward with," Seavecki said.