Seattle students walk out for gun control and mental health resources
In the wake of Ingraham school shooting, students demand change at City Hall
Thousands of students across Seattle gathered on the steps of City Hall Nov. 14, walking out of their classes in solidarity with Ingraham students, with the larger goal of preventing gun violence in schools.
This demonstration was in response to an incident of gun violence on Nov. 8, when a 17-year-old Ingraham High School senior and 14-year-old Ingraham freshman engaged in an argument that began in the school's bathroom, moving to the hallway as it escalated. Shots were fired, and the incident culminated as the older student received 5 gunshot wounds to the back, later dying of the injuries he had sustained.
The school went into lockdown for hours as police made two arrests and released a statement, all while parents congregated at the designated reunion site as their students were slowly released by school officials and law enforcement.
The incident at Ingraham, while shocking for many in Seattle, follows a nationwide trend as shootings in schools reach record numbers this year, with 2022 marking the most school shootings resulting in deaths in 20 years according to Education Week.
For Seattle students, these statistics have become front and center in their everyday lives. The fear and anger they felt when hearing of incidents of gun violence now hangs heavily in their classrooms and hallways.
This newfound proximity to the issue inspired many to take action. Ingraham Students Against Gun Violence and the Seattle Student Union organized the walkout, detailed demands, and gave speakers a platform to share their stories and concerns.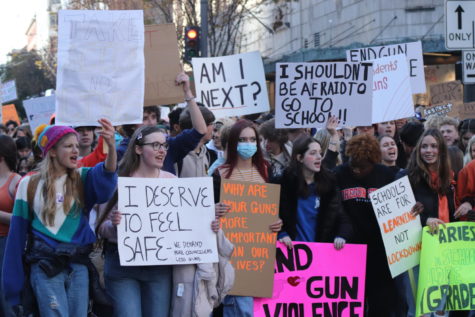 Student speakers voice demands
Ingraham students gave speeches from the start of the rally at 11:30 a.m. to 12 p.m.
"It makes me sick to think that in many ways, this could have been prevented," a student speaker from Ingraham said.
Speakers discussed the inaction from school and city leadership, personal experiences and demands.
The Seattle Student Union, who worked to organize the walkout, are demanding one counselor for every 200 students, updated school curriculum, increased security trained in de-escalation and restorative justice, and improved outreach programs within schools.
"We are demanding actions be made so we can resume to a safe learning environment," a student speaker said.
Seattle leaders' responses
After the shooting, Seattle politicians responded promptly with hopes of sharing concern and compassion for those suffering from this tragedy and addressing the need for gun legislation reforms.
SPS Superintendent Brent Jones addressed changes in an official written statement on the SPS website and at the School Board meeting on Nov. 9.
"I am introducing three actions as part of a district-wide safety initiative," Jones said.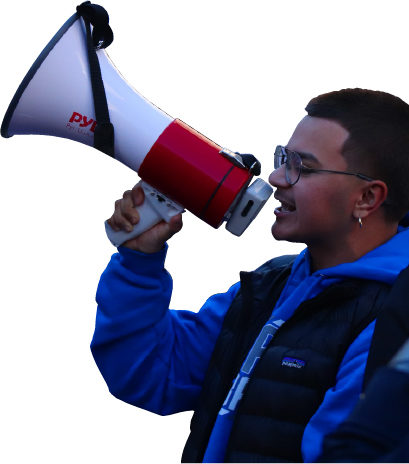 Jones detailed his plans of establishing a Community Action Team to improve school safety as well as launching a child well-being council of experts to meet mental health needs.
On Nov. 8, US Representative Pramila Jayapal of Washington's 7th Congressional District gave her official written statement on the shooting.
"This is a multi-faceted crisis that requires comprehensive solutions, including at the federal level," Jayapal said in her statement. "We must also take on the crisis of mental health, and particularly youth mental health."
The Seattle City Council later passed its 2023-24' budget on Nov. 29, adding $4 million for mental health counselors in SPS to address this issue.
Ultimately, Seattle politicians responded with a common focus.
"Our young people need real tools and resources to help them get through the challenges of our world today and to find solutions that don't involve guns and violence to address disagreements," Jayapal said.
Student perspectives on the walkout
While the walkout was organized by speakers, the root of the support was from the students who were there. Many of these students hailed from Ballard High School, pouring into the courtyard of City Hall by bus.
Attendees had different motives for participating. Ruby James Madden, BHS freshman ambassador, talks about why she joined in the protest.
"I'm here to show support for Ingraham students and raise awareness for stricter laws surrounding gun control," Madden said.
That is a sentiment shared by many protesters at City Hall, their signs and words expressing more than the action of walking out, all of it stemming from overwhelming support for Ingraham students and teachers.
BHS senior Lina McRoberts worked with Seattle Student Union board members to help organize Ballard's participation in the walkout in support of the Ingraham community.
"I think it's a really important cause … I have, and of course other students have, friends who attend Ingraham," McRoberts said.
"
"[I] ran to the nearest classroom I could find. I just wanted to get away," "
— Hazel Morton
Many felt that stricter gun laws were the best course of action.
BHS sophomore Elvia Maldonado spoke on why stricter gun laws matter so much.
"Because kids matter a lot more than guns," Maldonado said.
Maldonado also brandished a sign, which many protesters brought. Some signs sought to be supportive of Ingraham students, while others were more grave.
Signs read, "We're in this together," "I want to attend graduations not funerals," and "I don't want to die."
These signs may have struck the deepest for Ingraham students, many of whom will hold Nov. 8 in their lives for a very long time.
"I was in the hallway… and I heard gunshots," Ingraham junior Hazel Morton said. "I turned around and froze, saw people running, and ran to the nearest classroom I could find. I just wanted to get away."
Ingraham freshman Lila Trlica talked about how shocking the shooting was, especially for the Seattle community.
"When you think of things on the news, you're like, 'it's in a different part of the country.' But then it happens here and you just start panicking," Trlica said.