New principal enters the school year with a community focus
Abby Hunt uses past experiences to promote a school environment of inclusivity
Last year was filled with important conversations around sexual assault, race, identity and the transition back from remote learning. Integrating her past experiences from high school, college and teaching both in and out of the country, Principal Abby Hunt is ready to address important topics while also involving herself with the traditions of the school.
Her plans for this year ultimately stem from something she discovered when she was growing up. 
"Growing up, my life revolved around soccer," Hunt said. "I was raised in the mountains, backpacking, scrambling, just always out hiking."
It was there that she discovered the importance of community.
"Soccer provided me with a physical outlet … but more importantly, it provided me with community and close friends, and I was drawn to the challenge," Hunt said. 
This became even more evident as she pursued her education.
"I began to appreciate the classroom environment of learning and realized that my love of literature and writing thrived most in the classroom setting," Hunt said.
  However, it wasn't until college that she realized her love for literature and connecting with others would lead to a path in teaching.
"[I realized that] I don't want to just work in a room alone with books, I want to be engaging with people and I love the learning process," Hunt said. 
This community aspect would travel with her as she took up a position as an English language arts teacher in Belize. 
"Having my first real job in Central America was an important start to my career because it really helped me recognize that it wasn't about me," Hunt said. "I was an outsider in a new country [and] a new community, and it was not about pushing or centering myself."
It was both the joys and challenges of this unfamiliar position that would teach Hunt not just about her role as an educator, but also her never ending role as a student.
"Even when there's an age difference and a knowledge difference … there's still so much that we can learn from each other, which I think is really important as an educator to understand," Hunt said. 
Hunt then went on to teach English language arts in Chicago before eventually moving to Seattle.
Coming into the school, she has been impressed with the variety of perspectives represented.
"Ballard, as a school, has so many aspects and groups that work to support it," Hunt said. "People want to give back because Ballard has given them something, and that's been really cool to see."
Her emphasis on community is also present in the values she is taking to the position.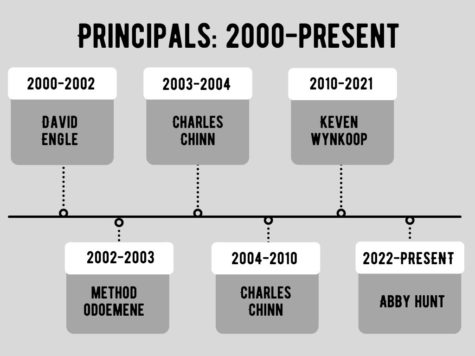 "As an educator, especially an educator in Seattle Public Schools, race and equity are fundamental to my job and my values," Hunt said. 
She is hoping to immerse herself in the community while also making some changes moving forward.
"I'm entering this year with a learning stance and a listening stance," Hunt said. "I'm definitely not wanting to come in and make radical change."
Instead, she has become involved in topics of interest to the school, the first of which was changing the bell schedule. 
"[There were] two [things] right out of the gate that I did not support, one was the bell schedule," Hunt said. "And that [change] was with the request of the Building Leadership Team."
This change follows a larger goal Hunt has for the year; increasing student advocacy. 
"I have made it possible [for members of the community] to go and advocate and lobby for [issues]," Hunt said. 
Along with a new bell schedule, Hunt has also implemented significant changes involving the all gender bathrooms.
 "Moving the location, and putting into action a plan of regular supervision … we're doing checks and just making sure that it's not being misused," Hunt said. "That comes from a place of care."
"
I want Ballard students to know that every single student here matters…So I and the administrative team, are committed to making those changes.
— Abby Hunt
For Hunt, the importance of safe spaces and resources for all students has ties to her own experiences in high school.
"When I was in high school, the school system and society were very anti LGBTQIA+ …  and that had an impact on me as a person," Hunt said. "We recognize that our society has some serious issues that need to be addressed."
As she begins this school year, Hunt is ready to take on her new position and create a culture that is welcoming to all.
"I want Ballard students to know that every single student here matters," Hunt said. "We have changes that need to be made here at Ballard. So I, and the administrative team, are committed to making those changes."