Seniors take the win in this year's Buff Puff
After two years of COVID, Buff Puff is back in person and better than ever
During homecoming week on Tuesday, Oct. 18, the juniors and seniors faced off at Buff Puff, a men's game of volleyball, hosted in the gym with a live audience. This was the first time the game was held with a live audience since COVID started in 2020. 
Rivalries were magnified after not having an audience for two years, but the seniors took the win with two sets out of three. Both coaches and players from the seniors team agreed that the energy in the gym that night was infectious and assisted them in their win.
Senior Josie Adamson, coach of the senior boys and captain of the varsity volleyball team, stressed that the audience provided a key component in winning the game: Energy.
"When we had a really awesome play, and everyone was up on their feet yelling and cheering, that really motivated my players to make more of those plays. That was a crucial part this year to win," Adamson said.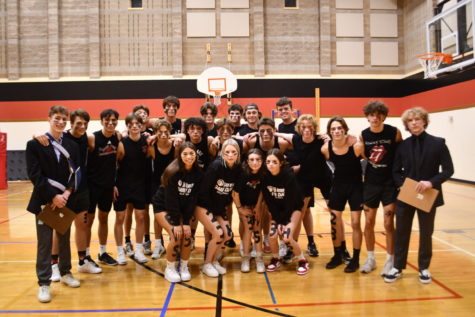 Senior Asher Seibel, the manager of the seniors team, confirmed what Adamson stated, emphasizing the importance of having a live audience.
"I just loved having the fans. It felt kind of off last year because it was just us and the live stream. It was an empty gym, completely quiet," Seibel said. "This felt like an actual game." 
Seniors also agreed that this tradition is a great way to show school spirit and should continue to be an event hosted at Ballard. Senior Ike McMillen, the setter for the senior team, confirmed this.
"Definitely, it's good for school spirit. It's one of the first events that the freshman get to attend at the gym," McMillen said.